Free range bronze turkey leg (frozen)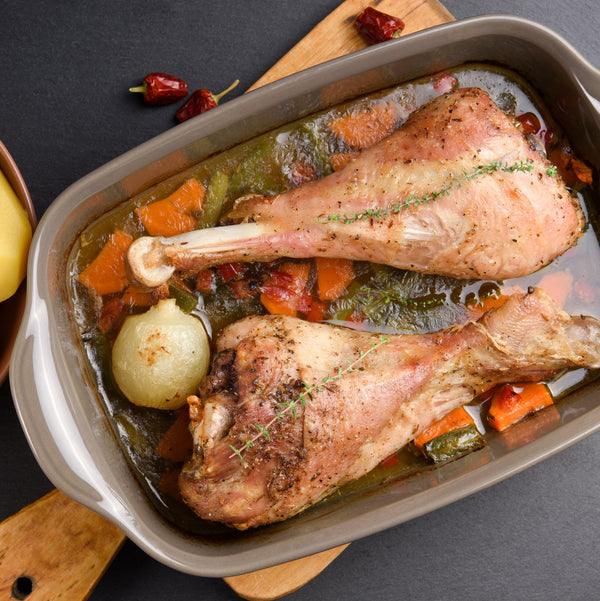 A flavourful cut of our free range turkey. A turkey leg makes a delicious healthy meal roasted,  as confit or slow cooked in a casserole. Our slow-growing Bronze Turkeys spend summer roaming on the farm, eating a natural diet of straightforward cereals and grass. All our Bronze Turkeys are dry plucked and game hung for 12 days to develop their intense flavour.  
This product is frozen

Plastic Free Packaging
All our minces, sausages, livers, steaks, chicken pieces, chickens, casserole cubes, stir-fry strips and bacon are now packed in plastic-free, home compostable biodegradable and ocean friendly vacuum pack bags. (Larger roasts and hams are still packed in recyclable vacuum pack bags until we use up packaging stocks).
Delivery and Collection Dates
Ordering from this Christmas Shop
Everything you order from this special Christmas website can be delivered by our own driver to Belfast, Holywood, Lisburn, Bangor, Newtownards, Donaghadee, Comber, Killinchy, Glengormley, Newtownabbey addresses on the following dates in December
Saturday 2nd December 
Saturday 9th December
Saturday 16th December  
PLEASE NOTE:  NO VAN DELIVERY ON SATURDAY 23RD DECEMBER
Everything you order from this special Christmas website can be collected in person from the farm on the following dates in December  
Friday 1st December and Saturday 2nd December 2 pm - 6pm
Friday 8th December and Saturday 9th December 2 pm -6pm
Friday 15th December and Saturday 16th December 2 pm - 6 pm
Friday 22nd, Saturday 23rd, Sunday 24th December 2 pm-5 pm
Christmas Hams
Hams delivered by Parcelforce or delivered by our own driver or collected at the farm on any date before 22nd December will be frozen.
Chilled Christmas Hams will only be ready for collection at the farm on Friday 22nd, Saturday 23rd and Sunday 24th December. Hams can be collected before these dates but they will be frozen, to be defrosted at your home. 
Collecting at the Farm
You can place your order online, or if you prefer you are welcome to phone us and we will be happy to place the order over the phone. We accept credit or debit cards over the phone and on our online site.
You can collect at our Farm shop from 2 pm to 7 pm every  Friday or Saturday 2pm to 6pm. 
In the last week before Christmas - you can collect from the farm on the following days
Friday 22nd December from 2 pm to 6 pm.
Saturday 23rd December from 2 pm to 6 pm
Sunday 24th December from 2 pm to 6 pm  
Please note 
We are closed on Friday 29th December and Saturday 30th December, reopening for collections on Friday 5th January 2024 and Saturday 6th January 2024. 
Alternatively, we can deliver to your home - please see Delivery page
Delivery charges
Delivery Charges
Delivery charges are calculated at the checkout  and the amount charged depends on the size of your order and your postcode. There is a minimum order value of £75 for Parcelforce delivery, and if your order is below the minimum amount the delivery options will not display.  You must input your postcode with a space between the first 4 digits and the last 3 digits e. g. BT30 9BL (not BT309BL) so the checkout software can read your postcode and calculate the delivery charge to the delivery address. If you input a postcode without spaces e.g. BT309BL the checkout software will not read the numbers as a postcode, so no delivery options will be displayed to you at the checkout. 
How much meat to order
Here is a general guide  - based on average portions.
Ham, raw. Order 8 oz (225 g) per portion. This will give you 4 oz (110 g) of cooked ham per portion. Ham loses approximately 1/3 to 1/2 its weight in the boiling process, so if you need 2 kg of cooked meat, you should order 4 kg of raw ham.
Meat on the bone (e.g. Rib Roast) - allow 1 lb (450 g) per portion.
Meat, boned (e.g. Rump roast/Topside Roast/Boned Pork Loin) - allow 8 ounces (225 g) per portion.
Meat boned for casserole (e.g. venison casserole pieces) allow 4 oz (110 g) for a casserole with equal vegetable ingredients e.g. mushrooms, onions, carrots. If the casserole meat is just poached in wine without any additional vegetables allow 8 oz (225 g) per portion.
Weight of hams, roasts and steaks
We cut  meat as accurately as possible, but as this is a natural product the weight of the product supplied may vary slightly from the weight ordered. It is impossible for the butcher to be absolutely precise when cutting meat.  
As hams are a natural product produced from the back leg of individual pigs they vary in size depending on the size and weight of each individual pig.  So naturally when we cut a ham in half, the size of each half ham will not be identical.  Our hams are priced in weight bands with an upper and lower weight range of approximately 500 grams per band, for a fixed price per weight range. We will supply you with a ham that falls in the weight band you paid for, but we cannot supply a specific precise weight. 
Storing your meat
STORAGE OF YOUR MEAT
Your order may contain both chilled and frozen items.  
FROZEN ITEMS
Frozen items are marked with a 'Best Before' date of 365 days from the date of packing. Please ensure you put frozen items in your freezer immediately your package is delivered, and store them frozen until you are ready to cook them. Do not leave chilled items in the refrigerator until the last day of their shelf life, then decide to freeze them as they will have no shelf life left.  Once thawed or defrosted previously frozen items have a 'Use By' date of 12 hours and must be cooked within 12 hours. Do not leave previously frozen items in a refrigerator for several days after thawing – they will not be safe to eat and should be discarded. Previously frozen items can be cooked and then refrozen for example, frozen mince can be defrosted, cooked and then frozen as e.g. Shepherds' Pie or Bolognese Sauce.
CHILLED ITEMS
Chilled items are marked with a 'Use By' date of several days (the length of which varies depending on the type of product – minced items with no preservative have a 2 day shelf life, fresh chicken has a 3 day shelf life, sausages or burgers containing preservatives have a 5 day shelf life in an unopened vacuum pack, beef steaks have a 14 day shelf life in an unopened vacuum pack, bacon has a 14 day shelf life in an unopened vacuum pack, but 4 days shelf life only once the pack is open.  Chilled meat and poultry should be stored in a refrigerator set to the lowest setting (2 degrees Centigrade) and should be cooked before the 'Use By' date on the pack. Once cooked chilled items can be frozen and stored in a freezer.  Chilled items can also be frozen in an uncooked state if they are put in your freezer immediately you receive them.